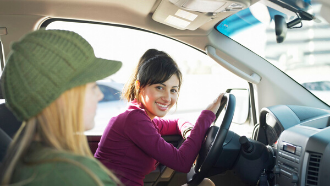 The Library is happy to offer contact-free curbside services
Available Services Include:
Pick-up holds or other requested library materials
Pick-up virtual programming kits
Faxing Services*
Copying Services*
Printing Services*
*Please call ahead for details/instructions
---
HERE'S WHAT YOU NEED TO KNOW!
The curbside delivery phone line is (330) 876-2461, press option 2 or extension 2751.
Please have your library card ready if you call in to make borrowing requests and your photo ID at the time of pick-up.
To utilize curbside services, you will need a mobile phone at the time of service to call the curbside phone line to notify staff you are here.
---
YOU CAN REQUEST MATERIALS AND DRIVE-UP TO PICK-UP WITHOUT GETTING OUT OF YOUR CAR!
1st: YOU CALL US!
The first step is to select your library materials that you want to borrow. You can do this several ways:
We Select:

You can call and ask one of our friendly librarians to select and pull books, movies, cd's or other library materials for you---you tell us your interests and we'll surprise you!

You Select:

You can use our online catalog before you call us and place holds on KFPL materials that we can then pull off the shelf for you. You will be notified when they are ready for pick-up.
Don't have access to the online catalog? That's okay! Simply make a list of specific items you'd like to borrow, then call us and ask us to pull the items on your list.

CLEVNET Holds:

You will only be able to borrow materials owned by KFPL until delivery services for Clevnet resume (TBA). You will not be able to receive items from other Clevnet libraries at this time.
2nd:  WE'LL CALL YOU!
The next step is to let you know that your items are ready for pick-up!
If you requested your materials over the phone, we will call you to let you know when your materials are ready for pick-up.
If you requested your materials using the online catalog or through another CLEVNET library, you will be notified by the automated system when your materials are ready to pick-up (only when those services resume--not available at this time).
3rd:  YOU DRIVE UP AND WE COME OUT!
Please have your mobile phone and photo ID ready, then head to the library!
Park directly in front of the building in one of the two designated curbside pick-up spots. If both spots are occupied upon your arrival, please wait in the parking lot until one becomes available as to not block the curbside return boxes. 
Have your library card handy and use your mobile phone to call (330) 876-2461, press option 2 or extension 2751 to tell us you're here.
We will come out to your car to deliver your materials with a smile! Deliveries will be contact-free, so please open your trunk to allow Library staff to put your items into your car without making contact. 
---
Please Note:
Curbside pick-up service is a free service that KFPL staff is delighted to offer. Your friendly smile and kind gestures are thanks enough! Staff members are not permitted to accept monetary or tangible tips for delivering your items to your car.
Please do not try to give any returns to the staff member making your delivery. If you brought items that you'd like to return, you must return them in the curbside return boxes. Also, if there is something in your bag that you've changed your mind about and have decided you no longer want, please return that item in the curbside return boxes. Our staff members will not accept any items directly from you.