Battery & Ink Cartridge Disposal Box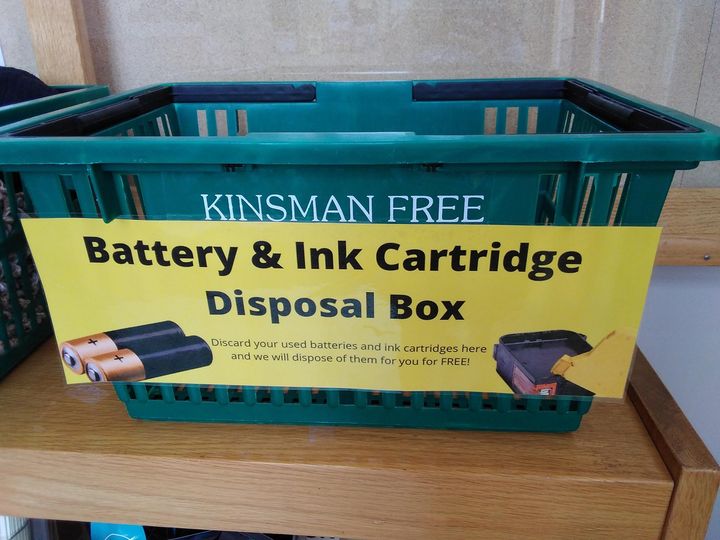 Drop off your used batteries and ink cartridges and we will recycle them for you! This is a FREE service provided by the Library. The disposal box is located just inside the front door and is available during open hours.
Trumbull County Collection Facility
Open to all Trumbull and Geauga County residents.
5138 Enterprise Blvd.
Warren, Ohio 44481
Hours: 10 a.m. – 3 p.m
Wednesday: Appliances, & Electronics ONLY
PH: 330-675-2673
Toll Free: 800-707-2673
Household Hazardous Waste (HHW) is accepted year-round at our Geauga Facility and from May-October at our Trumbull Facility.
We accept chemicals, oil-based paints and other HHW materials only during spring-fall months.
*Materials are collected, sorted, packaged and transported offsite for proper treatment, recycling or disposal.
---
Medication Disposal Bags
The Library has partnered with ASAP - Alliance for Substance Abuse Prevention, to offer free medication disposal bags to residents. 
Deterra medication disposal bags are a safe way to dispose of unused or unwanted medications. They are simple to use--simply put your prescription medication in the bags and add water. They are then environmentally safe to dispose of in your trash. Anyone in need of a safe way to dispose of medications can stop by the Library to get a medication disposal bag. All bags are FREE of charge and have been donated to ASAP by Rali Ohio.
Powered by proprietary MAT12® Molecular Adsorption Technology, the patented Deterra System deactivates prescription drugs, rendering them inert, unavailable for misuse and safe for the environment.
Environmental agencies, public safety organizations, healthcare and other institutions across the country are using Deterra to safely deactivate the active chemicals in the drugs which allows responsible disposal with no concerns that the drugs will end up in the hands of children or drug addicts, or in our drinking water. Stop into the Library to get your bag today!