BOOK & MEDIA CLUBS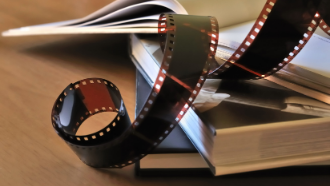 Click on the title of the club you are interested in to see more information and the current reading lists.
Mysteries at the Inn Book Club: This club for mystery readers meets at 6:00 p.m. on the 1st Thursday of each month at the Peter Allen Inn & Event Center.* *Due to Covid-19, beginning September 2020 all meetings will be held virtually; click on the title for more information on how to join us online.
Book Bites Club: This virtual book club airs new episodes on the 2nd Tuesday of each month. Are you crazy for cozies? Cozy mysteries are lighthearted novels that revolve around a hobby like crafting or cooking, and some even have recipes printed in the book. This new program will introduce you to a new cozy mystery each month plus showcase a cooking demonstration of one of the recipes from the book! Recommended for adults.
Friday Night Fright Club: Do you love horror stories and creepy tales? Then this is the book club for you! Join us virtually on Google Meet on the last Friday of each month for this LIVE book chat. Recommended for adults.
Nuts for Non-fiction Club: If you are a non-fiction reader and are looking for a book club please join KFPL's first ever non-fiction book club! Join us virtually on the last Wednesday of every other month to discuss the latest selection. Meets in February, April, June, August, October & December. Recommended for ages 16 and up.
Terror at Twilight Book Club: October has a long history of being associated with the things that go bump in the night--and this October is no different! Tune into our YouTube Channel for stories straight out of the crypt read by our Teen Librarian and Technology Trainer. Recommended for teens 12 & up.
Anime Netflix Party Club: Netflix Party is a Google Chrome add on that let's a group of people watch the same show or movie while live chatting right in the window. Participants will need a Netflix account and to download the Netflix Party add on onto their Chrome browser. If you need assistance getting your device set-up, please call or stop-in the Library and speak with our technology trainer. Bring your own snacks and be ready to share your love of Anime/Manga with others on the second Friday of each month this Fall at 7:00 p.m.