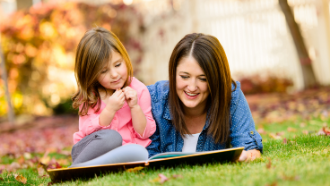 KFPL offers a variety of storytime programs throughout the year designed to engage young readers and inspire a life-long love of reading, learning, exploration and discovery. Click on the title from the list of storytime programs below to learn more and to find meeting dates & times.
Gnome on the Roam Virtual Storytime: Tune-in to the Library's YouTube Channel to watch as Miss Dianne and the Library gnome venture out into the community to do on-site, virtual storytimes! Geared to children ages 3-9 years.
Tap n' Read Storytime: Join Ms. Tawnee for virtual Tap n' Read! Storytimes will be live- streamed on the Library's YouTube channel monthly on the first Friday at 11:00 a.m. We will share stories and rhymes as well as a craft idea and fun games that parents or caregivers can download. Recommeded for children ages 2-7 years.
Music & Movement: Get ready to shake your sillies out, join Miss Dianne on zoom for a virtual interactive music and movement program, Enjoy songs, dancing, and funs ways to explore rhythm and movement. Learn to make your own instruments and different ways to play with scarves, shakers and more. This fun and interactive program will get kids up and moving as they interact and socialize with their peers. A computer or tablet with webcam and microphone will be necessary to participate fully in this interactive event. This program will be held online via Zoom. Registration is required to receive a zoom. A link and password will be sent to you 3-4 days before the event. Learn more about Zoom at zoom.us