Kinsman Township History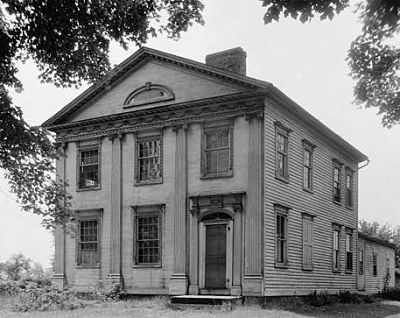 Kinsman is a diverse Township located in Ohio that is rich in history and cozy in feel. It has a wide variety of churches, shops, and public buildings. Kinsman is one of 1,300 townships in Ohio, and one of the twenty-four townships of Trumbull County. According to a recent census, roughly 1,943 people live in the township.

The township of Kinsman is known as number seven in the Connecticut Land Company.  It had 16,664 acres and cost $12,903.23.  It is situated on two creeks, Stratton and Pymatuning.  Stratton, named for an early settler, comes in from the northeast flowing down through the eastern section.  Pymatuning, rising in the northwest, passes through the western section near the old railroad bed.  It crosses Route 87 where the old familiar Cone Bridge once stood.  It often overflowed its banks and many times one found it necessary to drive through water to some depth.  

John Kinsman, for whom the town was named, made his first trip to Ohio in 1799.  He came on horseback from Connecticut across the Allegheny  mountains through Pittsburgh.  His companion was Simon Perkins.  Arriving in Youngstown, they met a surveyor, Alfred Wolcott.  Mr. Kinsman engaged him to join them and they proceeded through the wilderness to what is today Kinsman.  Although a dense forest covered most of the territory, a clear level spot on the banks of the Pymatuning was discovered.  Here they built a log cabin to house the surveyors and their supplies.  

 You can learn the whole story about how the Township of Kinsman came to be.
 
---
Kinsman Cemetery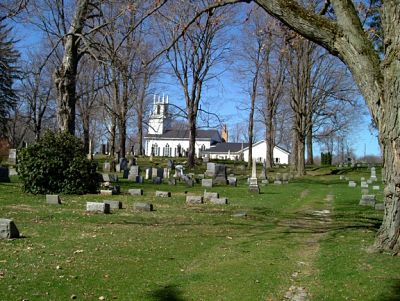 The first cemetery known as the "old cemetery" was selected by Mr. John Kinsman as the burial spot for John Tidd, the first death in the township in 1804.  Deeded by Mr. Kinsman to the C&P Church Society in 1832, they in turn deeded it to the township to be cared for and controlled by the township trustees. This agreement still stands today. Seven revolutionary War veterans are buried here. They are as follows: Peter Lossie (Lossee), Ebenezer Reeves, John Kinsman, Lovel Parker, William Mathews, Dr. Jedediah Burnham, and Martin Tidd.

The cemetery often holds valuable information with regards to tracing genealogy. Many family plots have been photographed and mapped on Find a Grave. More information can be obtained from the Kinsman Cemetery Board.
---
Dr. Peter Allen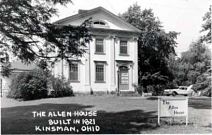 Our national government was hardly in its teens and Ohio's only half that old when Dr. Peter Allen moved to the frontier town of Kinsman, Ohio, in 1808. As he watched civilization conquer the wilderness, he helped medicine out of its dark ages. Arriving with a black bag filled with herbs and leeches, he soon sought to embrace new scientific advances, helping found what would become the Ohio State Medical Society. The Allen house still stands and has been restored. It now operates as the Peter Allen Inn and Events Center in Kinsman. For more information about Dr. Peter Allen. 

Peter's grandson, Dudley Peter Allen, MD, born in Kinsman, followed in his grandfather's (and father, Dudley's) footsteps when he chose to enter the medical field in the late 1800's. In the life history of the late Dr. Dudley Peter Allen, for many years one of the eminent physicians and surgeons of the city of Cleveland, we find evidence of a peculiar characteristic that always makes for achievement — persistency, coupled with fortitude and lofty traits, and as a result of such a life he accomplished much good and was eminently deserving of the high position which he attained among the world's useful workers. Check out here to learn more about Dudley Peter Allen, MD.
 
---
Clarence Darrow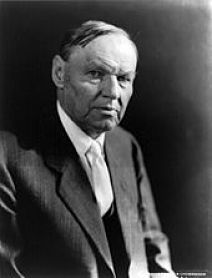 Kinsman native, Clarence Darrow, in full Clarence Seward Darrow, (born April 18, 1857, near Kinsman, Ohio, U.S.—died March 13, 1938, Chicago, Illinois), was a lawyer whose work as defense counsel in many dramatic criminal trials earned him a place in American legal history. He was also well known as a public speaker, debater, and miscellaneous writer. The Library's Historical Room has books and artifacts related to Darrow, so stop in any time to take a look.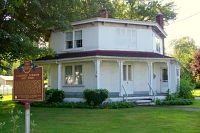 Darrow was born in Farmdale in 1857, and he resided in a rather unusal home in Kinsman from 1864 to about 1873. This home is lovingly referred to as "The Octagon House" in Kinsman. This eight-sided house reflects a widespread pre-Civil War architectural fad. Promoted by phrenologist Orson S. Fowler in his 1848 book, A Home for All, as a way to "bring comfortable homes within the reach of the poorer classes," the octagon made efficient use of interior space and natural ventilation. More than thirty octagonal houses are known to have been built in Ohio, and at least twenty-five survive. This example was built circa 1854 and purchased by Clarence's father, Amirus Darrow, who was a cabinetmaker, in 1864. The exterior walls are constructed of chestnut beams between layers of concrete. The house was added to the National Register of Historic Places in 1971.The house still stands at 8405 Main Street in Kinsman and is marked with a Ohio Historial Marker plaque. Check out here to learn more about Clarence Darrow.