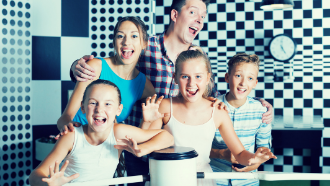 KFPL is bringing the fun of Escape Rooms right into your home! Players simply need to assemble their team, which can be done via video chat, text message, or gathered around the same screen, if you share the same household. Once your team is ready, simply go online to make your way through the virtual rooms, solving the various puzzles to make your exit. Don't have a team? That's okay, you can play independently!
Click on the title of your choice from the selection of virtual escape rooms below:
Journey Through Fairy Tale Forest: Welcome to our Fairy Tale-themed virtual escape room! It is based on classic fairy tales and includes characters such as the Three Little Pigs, Hansel and Gretel and Little Red Riding Hood!
Haunted High: Try this frightfully fun virtual escape room, if you dare! Travel through the abandoned halls of Haunted High School as you investigate the strange occurrences rumored to have taken place there, can you find a way to break the curse and escape before it's too late?