Mask Protocols
Currently, all staff and guests over 2 years of age are required to wear a mask while visiting the Library. Please read below for more details.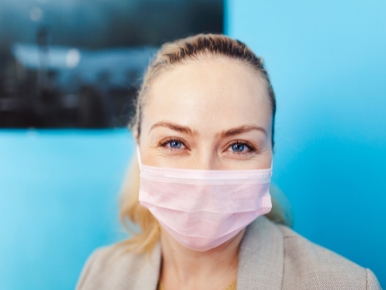 The Kinsman Free Public Library follows all guidelines and recommendations made by the CDC with regards to masking in the Library. The requirement for both staff and visitors to wear masks is fluid and will change in response to the level of community transmission in Trumbull County. Library administration will check the CDC Covid Data Tracker daily and respond accordingly. Signage will be posted on the library door to indicate the current mask protocols in place at the library.
During times that the community transmission rate for the county is labeled as "low" or "moderate", we ask that ONLY those staff and visitors over 2 years of age who have NOT been fully vaccinated wear a mask properly situated over the nose and mouth at all times while inside the library. Fully vaccinated visitors do not need to wear a mask.
When community transmission rate for the county is labeled as "substantial" or "high", we ask that ALL library staff and visitors over 2 years of age (both vaccinated and non-vaccinated) wear a mask properly situated over the nose and mouth at all times while inside the library. 
We ask that you please check the CDC Covid Data Tracker to view Trumbull County's level of community transition before venturing to the library. If you happen to visit the library without a mask and find you need a mask upon arrival, we are happy to provide them to visitors for free. Free masks are available at the Circulation Desk.
We understand that it can be frustrating when the rules regarding masks change so frequently. We ask that you please exercise patience as we work through this ever-changing pandemic and do everything we can to help keep our valued staff and patrons safe and healthy. We thank you for your continued cooperation & understanding.
---
Free Covid-19 Rapid Test – Abbott BinaxNOW Home Test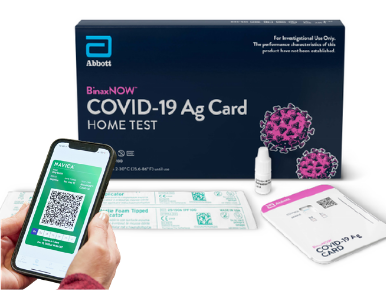 The Kinsman Free Public Library is part of the State of Ohio Health Department Initiative and has a limited supply of free Covid-19 Abbott BinaxNOW Home Tests available for community members.
The test requires the use of a mobile device to download the NAVICA app. The library offers free Wi-Fi access available 24/7 from the library parking lot and lends a limited number of wi-fi hot spots with a library card if you do not have internet access at home.
Please call ahead after registering with the NAVICA app to ensure availability at (330) 876-2461
If you have been exposed to the Covid-19 virus or are experiencing symptoms, we ask that you not enter the building. Please have a healthy family member, friend, or neighbor pick up your test kit. Thank you for considering the well-being of other library patrons and our staff.
Please read the Q/A below or call the library with any questions.
BinaxNOW Home Test Q&A
 Why is the state providing these tests?
The State has secured the purchase of at least 2 million tests that can be self-administered outside of a clinical setting. The new Abbott BinaxNOW Home Test can be provided to individuals for at-home use, and is packaged with a telehealth session to oversee test administration, including prescription writing and result reporting. The state's objective is to make rapid testing much more broadly accessible throughout the state.
How reliable are these tests?
The lab-based PCR tests remain the gold standard in terms of sensitivity of the tests. But the rapid antigen tests have the ability – with their scale, quick results, and lower cost – to be powerful tools in slowing the spread of COVID, by focusing on the period of time that an individual is most infectious and greater risk of spreading the disease. The BinaxNOW tests have proven extremely effective and easy to use.
Antigen tests are generally less sensitive than PCR-based methods, and their clinical performance depends on the circumstances in which they are used. The fact that antigen tests generally have lower sensitivity but consistently high specificity means there is some risk of false negatives with antigen tests, but generally not false positives when the test is administered according to the instructions. More recently, there has been more study of the use of antigen tests as screening tests for asymptomatic populations, including this recent one from the CDC. Note that its conclusion, while recognizing the limitations of antigen tests, is that "Antigen tests can be an important tool in an overall community testing strategy to reduce transmission." Here is another recent study evaluating the use of antigen tests in asymptomatic populations.
How does a user get the test?
A user should start by downloading the NAVICA app onto a mobile device and create an account for themselves and, if they want to test any children or other dependents, create managed profiles from the "Account and Settings" portion of the app. An Ohioan can find sites that have tests available at ohio.emed.com, and can use their NAVICA ID to obtain the test from the distribution site they select. Before going to a distribution site, a user should call ahead to confirm hours and make sure the site has tests available for pickup.
 How does a user get a test for a child or other dependent who doesn't have their own email address to create a NAVICA account?
In the NAVICA app, once a user has created their account, they can create Managed Profiles for children and other dependents who might not have a separate email address or are otherwise unable to create a separate NAVICA app. Go to the "Account and Settings" portion of the app to create a Managed Profile. The app will display separate NAVICA IDs (used for obtaining a test from a distribution site) and NAVICA passes (used to show test results) for each profile on an account. When a user initiates a test through ohio.emed.com, they will be asked which person on the account is being tested, and the results will be reported for the appropriate user.
 What if someone who wants to use the test doesn't have an internet connection or equipment to complete the telehealth session?
The BinaxNOW Home tests are intended to make decentralized, at-home use more accessible. But if a person (or group of people) lacks access to all the necessary resources, a distribution site may create workarounds – e.g., centralized locations with computers and internet available to perform the telehealth. In addition, while the NAVICA app is the primary way to receive individual results from the test, specific requests can be made for an email or other mechanism of delivering a result to an individual who doesn't have a smartphone. A person can call eMed customer support at (844) 943-0061 to have the test results sent outside of the NAVICA app.
 What should an individual do if their telehealth session is interrupted before completion?
If a telehealth session is interrupted, the individual should immediately return to ohio.emed.com and select the option to begin a test and explain to a proctor that the prior session was interrupted. If the proctor determines that the session is unable to proceed, contact eMed support at (844) 943-0753 for assistance.
 How are results reported?
eMed is responsible for reporting results. For the individual being tested, results are returned through the NAVICA app, and the NAVICA pass can be used to demonstrate a test result to an employer, school, or other party. For public health reporting, eMed sends results through the electronic lab reporting system.
 Can we skip the telehealth portion of the test and just have the distribution site also perform the test?
No, the Home test's Emergency Use Authorization from the FDA specifically states, "The BinaxNOW COVID-19 Ag Card Home Test is to be performed only with the supervision of a telehealth proctor." Bypassing the telehealth portion of the test would also mean there would not be a prescription for the test to be administered, as the prescription specifically includes this aspect of the test. However, there are more appropriate, rapid antigen tests that can be administered at a distribution site that has a CLIA certification or waiver, can provide an order for the test, trained medical staff to administer and a mechanism for reporting the results of the test to the Ohio Department of Health. If appropriate, please contact the state testing team at TestingRequests@odh.ohio.gov to discuss these alternative options.
 What if the results of my test or my pass are not available within the NAVICA app?
Call eMed Customer Support at (844) 943-0061.
---
Vaccine Information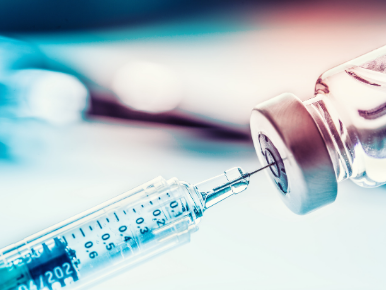 Kinsman Free Public Library is here to help you to sign-up for the Covid-19 vaccine. Please review the information provided on this page. If you need assistance with online sign-ups, please stop into the Library and our Adult Services Librarian will be happy to assist you.
The Ohio Department of Health has a map where you can search for vaccine providers by county. Click here to see a map of all the places giving out the vaccine in Trumbull, Ashtabula, Geauga, Mahoning, and Portage Counties. You can also search different counties by going to the website.
A few of the more common places to sign up are the Trumbull County Combined Health District, Giant Eagle, Rite Aid, and Walgreen's. 
You can sign up over the phone at the Health District by calling 330-675-7844 and leaving a message with your name, date of birth, and phone number. You can also register at the Health District online by clicking here and filling out the form. It works like a waiting list. When an appointment is available, someone from the health department will contact you.
Giant Eagle, Rite Aid, and Walgreen's don't have waiting lists. If you can't get an appointment at first, our best advice is to keep checking back; availability changes from day to day. Expand your search area if you can for more options.
For Giant Eagle, you can register online here or by calling the Giant Eagle Pharmacy.
Rite Aid and Walgreen's both need you to sign up online. To schedule your vaccine at Walgreen's, click here. You'll need an email account that you're able to log into (Walgreen's will email you information that you need to bring to your appointment). If you don't have an email address, we can help you set one up.