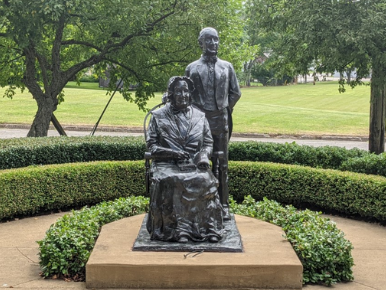 On August 27, 2020, the Kinsman Free Public Library received a donation of a life-size bronze statue depicting Rebecca Kinsman and her son, John Kinsman, that is now prominently displayed in the library's outdoor Reading & Wellness Garden as a tribute to Kinsman's rich history for all to enjoy. What started as a dream by the Library's Board of Trustees in 2012 turned into an eight year project resulting in an 1,800 pound hollow, bronze statue that pays homage to the township's founding family. The statue, which was funded by private donations from Kinsman community members, was designed by artist Michael Kraus, curator at Soldiers & Sailors Memorial Hall and Museum in Pittsburgh.
The life-size statue which is cast in bronze portrays two important members of the Kinsman family. Rebecca Perkins Kinsman, wife to John Kinsman, for whom the town is named, is illustrated seated in a chair with her son, John, standing behind her with one hand resting on the back of the chair. Rebecca was not only instrumental in establishing Kinsman alongside her husband, she was also philanthropic, giving generously to religious and educational enterprises such as the Presbyterian Church and Case Western Reserve. Their son, John, who was brought to this area by his parents when he was only eleven years old, is identified as a key player in the early settlement of the Western Reserve area. He, like his mother, had a philanthropic heart and gave graciously to early settlers to create a town that people were happy to call home. Artist Michael Kraus designs his pieces in such a way that they tell a story.
There are several subtle nods to the family and the era that can be found within the statue. Rebecca is sitting, a sign of her progressed age, and John is standing behind her as a show of respect for his mother. John is holding a ledger book behind his back to represent their connection as founders of the Kinsman First National Bank. A Bible is laid open in Rebecca's lap, as she was known to be a devout Christian. Finally, onlookers may notice a cat at Rebecca's feet, peeking out from under her dress. While the cat has no historical significance, Kraus thought it to be a playful addition and a fun feature that children viewing the statue could enjoy.
The process of designing the statue began with careful thought and historical research. Kraus reflects the era of the 1840s-1850s in terms of the clothing. The artist actually had garments from the time period on hand to use as inspiration. He studied the draping of the fabric and the styles of the times, even measuring the distance from button to button. John is wearing a drop front style of trouser, fit to the period. The chair that Rebecca sits in is a New England Windsor back chair, common to that era. Kraus studied portraits of Rebecca and John, and he used a book of body measurements to help get their proportions right. Guests are invited to visit the Kinsman Free Public Library's Reading & Wellness Garden to see the statue. An official dedication ceremony featuring the artist and sculptor with lectures on the process of creating the statue will be held on September 29, 2021.