KFPL has everything you need to get the school year off to a great start. Whether you're going in-person or online, we're here to help!
---
Library Card Sign-Up Month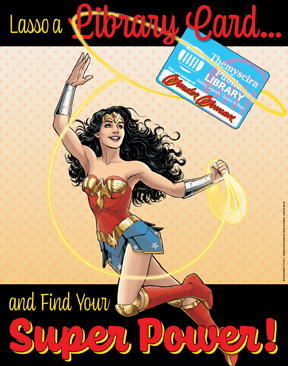 Whether you are preparing for a virtual classroom or in-person learning this fall, KFPL wants to be there to help support students, parents, and educators by making sure you have access to the resources you need to be successful.
Since 1987, Library Card Sign-up Month has been held each September to mark the beginning of the school year. During the month, the American Library Association and libraries unite in a national effort to ensure every child signs-up for his/her own library card. Throughout the school year, public librarians and library staff will assist parents and caregivers with saving hundreds of dollars on educational resources and services for students. From free access to in-person and virtual programs and activities, a variety of educational resources and databases, a diverse collection of books, to the expertise of our KFPL librarians, a library card is one of the most cost effective back to school supplies available.
The theme for Library Card Sign-Up Month this year is "Libraries are Wonderful," and we're celebrating with one of our favorite DC characters, Wonder Woman! Click here to learn more about how you can celebrate Library Card Sign-Up Month with KFPL!
---
Student Study Kiosk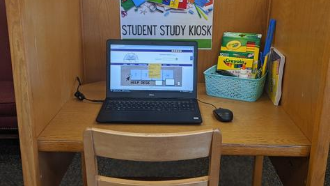 Students may reserve a session at the Student Study Kiosk in the library in 45 minute increments. The Student Study Kiosk provides students with a private workspace, free Library wi-fi, and close proximity and access to library books, materials, and KFPL's friendly and knowledgeable librarians. The kiosk is located next to the Reference area in the Library. Students may bring their own laptop or portable device to use, or they may borrow a laptop from the library to use during their session. Portable chargers are also available to students to borrow during their session. Various school supplies including markers, colored pencils, scissors, glue, and staples may be borrowed as well. Printing services are available for a fee of $.10 per black & white copy and $.25 per color copy.
Sessions are available on a first-come-first-served basis. We recommend that you call ahead to reserve your session at (330) 876-2461 x 2751.
Students may drop-in to the library to reserve a session but may have to wait if the kiosk is being occupied until the next session becomes available.
Sessions can be reserved for 45 minutes at a time; Session times may be extended so long as there is not another appointment scheduled or another student waiting for the kiosk.
The Study Kiosk is available to students of all ages, from elementary to college/graduate students.
No library card is needed in order to reserve the student study kiosk or to borrow laptops, chargers, or any other library materials to use in the Library during sessions.
Kiosks are designated for one user at a time only; a limit of one parent/caregiver is permitted sit at the kiosk with a student who may need assistance.
Tutoring sessions are not permitted at the Student Study Kiosk.
---
KFPL Research Databases
KFPL offers card holders a number of research databases that contain information from published works like magazine, professional journal and newspaper articles, encyclopedias and reference books. Library research databases are searchable by keywords, subject, author, magazine title, date, etc. Library research databases provide citation information and often contain full-text articles that you can print, email or save. There are different kinds of library research databases for specific topics like Biography Reference Bank, EBSCO, and World Book Online. Click here to find all KFPL databases.
---
KFPL Presents: How to Enjoy Digital & E-Media
| | |
| --- | --- |
| | Did you know that you can use your Kinsman Free Public Library Card to download e-books, audiobooks, movies, music and more for FREE! Your card gives you access to the TumbleBooks digital library, Hoopla, the Overdrive E-Media collection, library databases and more! |
| | TumbleBooks are animated, talking picture books for students in grades K-5 that are created by taking existing picture books, adding animation, sound, music and narration that students can read or have read to them. |
| | Hoopla allows you to borrow movies, music, audiobooks, ebooks, comics and TV shows to enjoy on your computer, tablet, or phone & TV! You can also download e-books and audiobooks from the Library's Overdrive e-media collection! |
| | Hop in the car, head to the Kinsman Library and ask for an application for a new library card. Cards are FREE for Ohio residents. If you are under 18 years of age, a parent or legal guardian must come with his/her photo ID and proof of current address. |
| | If you can't get to the Library in-person to apply for a card, you can apply for a KFPL Virtual Library Card which allows you to borrow items from KFPL's e-media collection, including TumbleBooks, Hoopla and Overdrive. To apply, click here. |
Click here to learn more about and use hoopla, overdrive, tumblebooks and all of the library's digital & e-media.
Apply for a virtual card by clicking here.
---
1,000 Books Before Kindergarten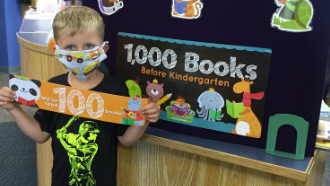 Read a book (any book) to your newborn, infant, and/or toddler. The goal is to have read 1,000 books (yes, you can repeat books) before your precious one start kindergarten. You and your child(ren) can participate in this free challenge by visiting the Kinsman Free Public Library to pick-up a tracking chart. Can't make it into the Library? That's okay! You can download the form from our website! To learn more about this program, click here.
---
Special Back-To-School Episode of Gnome on the Roam Storytime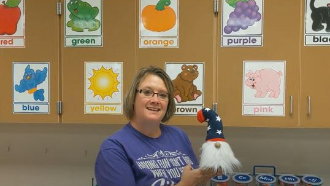 Join Miss Dianne and Melvin the Gnome as they visit the Badger Elementary School and tour a Pre-K classroom! You don't want to miss this storytime that features a pigeon who's a bit afraid to go to school and a little t-rex who learns classroom manners. Episode airs on Monday, August 31 at 11:00 a.m. Click here to watch!