You now have access to hoopla digital AND OverDrive e-media...no card needed!
Overdrive Instant Digital Card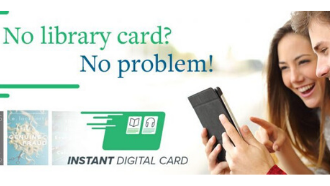 The Overdrive Instant Digital Card (IDC) feature connects readers with KFPL's digital collection in just 30 seconds. Here's how it works!
Visit clevnet.overdrive.com
You will be presented with the option to get access to KFPL's digital collection using your mobile phone number. You will see a prompt on the log-in screen of your library's OverDrive-powered website and in the OverDrive and Libby apps.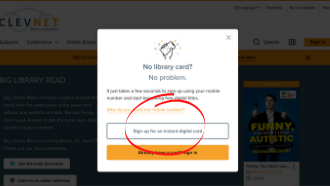 Provide your name and mobile number. OverDrive will use an address verification mapping software to assure your mobile phone number is associated with an address within the KFPL legal service area as defined by the State Library Of Ohio. If you do not live within the legal service area, you will be notified that you will not be permitted to proceed with the registration process.
If you do live within KFPL's legal service area, you will be issued an Instant Digital Card which will give you access to your library's digital collection using your mobile number to sign in.
OverDrive will send a one-time code via SMS. This is to authenticate you as a user and ensures that only the person in possession of the mobile device can use that number to register.
Now, you may browse and borrow from the vast collection of millions of e-books, audiobooks, comics, graphic novels, children's books, teen books and more!
---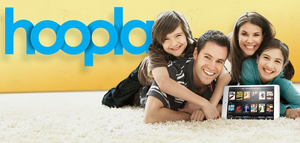 Hoopla is a digital streaming service for users to access eBooks, eAudiobooks, music, movies, and TV shows using portable devices like smartphones and tablets.
What do I need?
Tablet, smartphone, computer, or TV with streaming capabilities
Email address and password
Hoopla app or updated browser software (e.g. Chrome, Firefox, IE, Safari, etc.)
KFPL has opened hoopla up to any and all users now through May 31, 2020--no library card needed! If you already have a library card and/or hoopla account, please disregard these instructions and continue to sign in to hoopla as you normally do.
---
Want to borrow titles from hoopla but don't have a Kinsman Library card? Follow these easy steps:
You will be asked to enter your email address, and create a password.
You will then be taken to a page that will ask you to select a library: Type "Kinsman Free Public Library" and select it when it pops up.
You will then be taken to a page that asks for a library card number. Right below that field is a box that says "I don't have a library card but would like to try hoopla". Click in that box.
You will be taken to the hoopla library where you can borrow up to 5 titles each month.