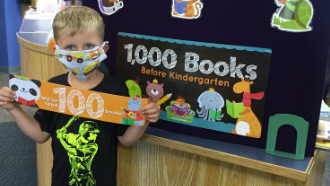 Welcome to the 1000 Books Before Kindergarten Challenge! This program is part of an initiative from The 1000 Books Foundation, a non-profit public charity which operates the challenge nationwide and in Canada.  The concept is simple, the rewards are priceless! 
Read a book (any book) to your newborn, infant, and/or toddler. The goal is to have read 1,000 books (yes, you can repeat books) before your precious one start kindergarten. You and your child(ren) can participate in this free challenge by visiting the Kinsman Free Public Library to pick-up a tracking chart. Can't make it into the Library? That's okay! Click here to download and print the tracking form yourself, or download the attached document at the bottom of this page.
Here's how it works: Once you have finished reading a book with your little one, color in a bubble. Once you've colored in all 100 bubbles on the chart, bring your completed chart to the Library to earn a badge and to get a new tracking chart (or you may download a new chart here). You will have completed the challenge once you have completed 10 tracking charts by reading 1,000 books. Now, you may come to the library and collect a prize for completion!
You may begin this challenge at any point during your child's pre-k years and can take as long as you need to finish, so long as you are done prior to your child's first day of Kindergarten! This challenge is a fun way to help your child establish strong early literacy skills. Let us help you give your young children the confidence necessary to become strong readers and successful in school and life.