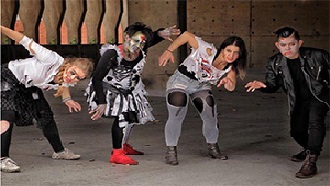 Paticipant must be 12 years of age and older, please.
Come Flash Mob with us on the town square to get the community in the Halloween spirit!
You can drop-in between 4:00 - 6:00 p.m. on Wednesday, October 23rd & Wednesday, October 30th to learn a modified version of the Thriller dance made popular my Michael Jackson. Not a great dancer? That's okay! This simplified version is easy enough even for zombies with two left feet!
Learn the moves, dress the part, then be a member of a Thriller flash mob in the town square on November 1st at 5:00 p.m.
Don't have a zombie costume? We've got you covered! Stop into the library ahead of time (from 4:00 to 5:00 p.m.) to borrow some tattered clothes and paint your face with costume make-up!
Event type
Community
Music
Special Event