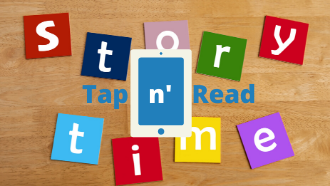 Join us LIVE in-person at the Library in the Activities Room on the 1st Friday of each month at 11:00 a.m. for an interactive storytime program that integrates technology tools and apps in with children's picture books. 
If you can't meet in-person, you may join the via the Live-Stream that airs at the same time on our YouTube channel. 
---
Miss the live event? That's okay, we got ya covered!  To watch the recordings of the Live sessions, visit our YouTube channel and go to the "Tap n' Read Playlist!" Recordings will be uploaded within 24 hours of the Live event airing.