Introducing the all new self service check-out app that allows for a completely contact-free way to borrow library materials! The self service option allows patrons to use the CLEVNET app to check-out their own materials using their built-in smartphone camera. The app uses GPS coordinates to display the self-service option. When a patron is in a participating location, such as Kinsman Free Public Library, the option for self service will appear in the app. 
---
Using the self service check-out option is simple!
Find an item you would like to check-out, then open the CLEVNET app on your smartphone.
Find the Self Service tab within the app and tap it. 
Tap > Check-out.
Scan the barcode found on the library item using your smartphone's camera.
Tap Finish when you are done scanning.
You can confirm that the item was successfully checked-out on the Checkouts page.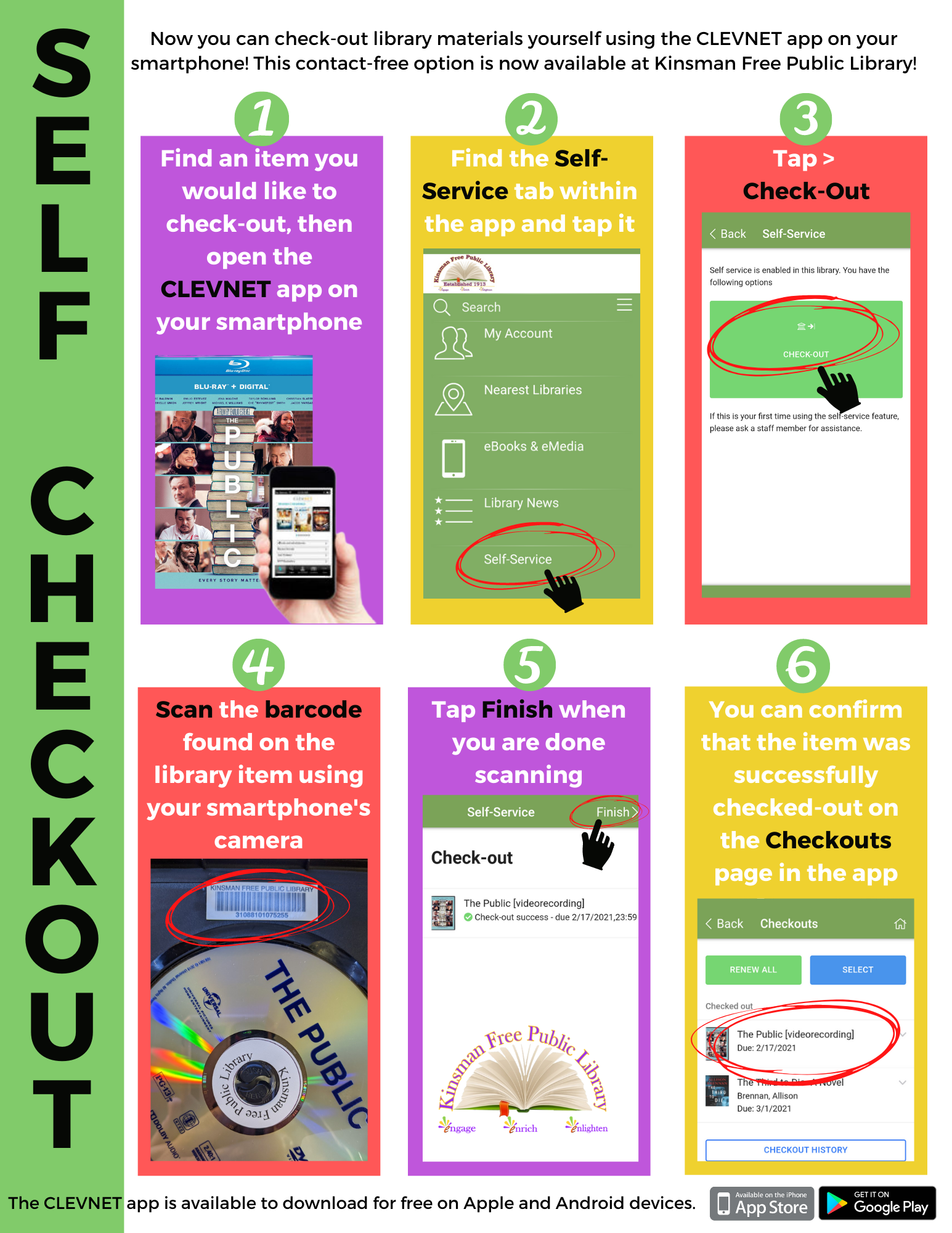 ---
Troubleshooting: 
In order to verify that a user is inside of a library that allows self check-out services and for the CLEVNET app to display the self service tab, location services need to be enabled on the user's smartphone. If the user is having issues, please verify that the CLEVNET app has access to the user's location. 
For Android: 
Swipe down from the top of the screen.
Touch and hold down Location. If you don't see Location:

Tap Edit or Settings.
Drag Location into your Quick Settings.

Tap App Permissions.
Under "Allowed all the time," "Allowed only while in use," and "Ask every time," find the apps that can use your phone's location.
To change the phone's permissions, tap it then choose the location access for the app.
For Apple IOS: 
Go to > Settings > Privacy > Location Services. 
Verify that Location Services is turned on.
Scroll down to find the CLEVNET app.
Tap the app and select either "While using the app," or "Always."
Troubleshooting Information taken from the Lorain Public Library System website on 2/10/2021.