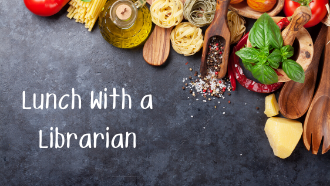 Lunch with a Librarian
Join LIVE every Thursday in July at 1:00 p.m.
Join us on Google Meet for these live, interactive virtual events that will take place every Thursday afternoon at 1:00 p.m. beginning July 2nd! Watch, chat and cook along with Miss Cheryl and other participants from home to explore the wizarding ways of the culinary world! Recipes and ingredients will be posted one week prior to airing. Summer Reading Grand Prize Winners will be announced at the Finale Lunch Party during the last session on July 30.
---
Link for joining:
---
Miss the live event? That's okay, we got ya covered! To watch the recordings of the Live sessions, visit our YouTube channel and go to the "Lunch with a Librarian" Recordings will be uploaded within 24 hours of the Live event airing.
---
Ingredients needed:
July 2nd: Butterbeer floats

4 bottles cream soda
1 pint heavy cream
1 c. Brown sugar
1 Stick butter
1t. Salt
Vanilla ice cream
1t. Vanilla

July 9th: Jam Tarts

2c. flour
1/3 c. sugar
1/2t. salt
2 sticks butte
1 lg. egg yolk
1t. vanilla extract
3 T. ice water
1/2c. any flavor jam

July 16th:Molly's Meatballs with onion sauce

1lb. ground beef
1/2 c. dry bread crumbs
1 onion
2T. fresh parsley
1/2t. salt
1/4t. ground black pepper
1/8t. ground nutmeg
2T. oil
2 T. vegetable oil
1 onion, 1T. flour
1-14 oz. can chicken broth

July 23rd:Pumpkin Pastries

1 1/4c. flour
1T. sugar
1/4t. salt
5T. butter
3 T. vegetable shortening
4-6T water
1 C. pumpkin pie filling
1/4c. sugar
1/8t. ground nutmeg
1/8t. ground cinnamon

July 30th: Slithering Snake Roll

1 med. Sweet red pepper
½ lb. ground beef
1 sm. Onion
2 garlic cloves
1 loaf (1lb.) frozen dough
2c. shredded Monterey jack cheese
Event type
Special Event
Summer Reading