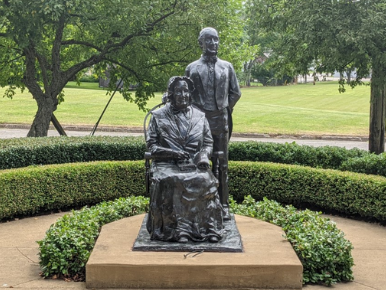 Kinsman Free Public Library Administration and the Board of Trustees invite you to celebrate the dedication of the Rebecca & John Jr. Kinsman Statue in the Library's Reading & Wellness Garden On Wednesday, September 29, 2021 beginning at 10:00 a.m.
Please join us on the day that marks the 248th birthday of Rebecca Perkins Kinsman as we offer an exciting line-up of events to commemorate the 1,800 pound bronze statue that pays homage to the township's founding family and the important and lasting contributions that they made to the establishment of this wonderful community.
9:30 a.m. - Time-Period Musical Prelude
10:00 a.m. - Unveiling & Welcome
10:15 a.m. - Presentation by Statue Artist & Sculptor
11:00 a.m. - Theatrical Portrayal 
12:00 p.m. - Closing with the Ringing of the Church Bells
Stop inside the Library any time between the hours of 9:30 a.m. to 4:30 p.m. for a Historical Room Open House where an array of Kinsman related artifacts and displays will be highlighted and light refreshments will be served.
Event type
Community
History
Informational
Special Event