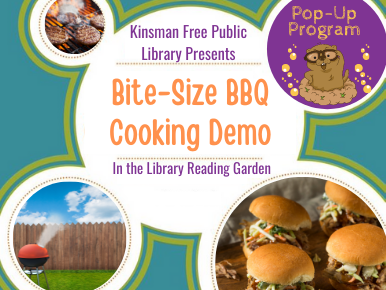 Kinsman Free Public Library staff will be popping up, out, and all about town one day each week this summer from 11:00 a.m. to 12:00 p.m. with fun, interactive programs! Stop by and see us to join in the fun! No registration is required, just "pop-in!"
When: Wednesday, August 11th from 11:00 a.m. to 12:00 p.m.
Where: At the Library in the Outdoor Reading Garden
Who: For teens & adults
What: Join Library staff to come take a bite-size taste of summer at a BBQ cooking demo featuring Hawaiian ham sliders and bacon wrapped tots.