Home
Library Closed for Thanksgiving Holiday
The Library will be closed on the following days:
Thursday, November 23rd
Friday, November 24th
Saturday, November 25th
We are so thankful for all of our patrons and that we get to be a part of such a wonderful community!
From our family to yours, we wish you a very Happy Thanksgiving!
We appreciate if are careful to not over stuff the curbside returns.
Please remember that you are responsible for the items until they are discharged inside the library.
Holiday Book Crafts Program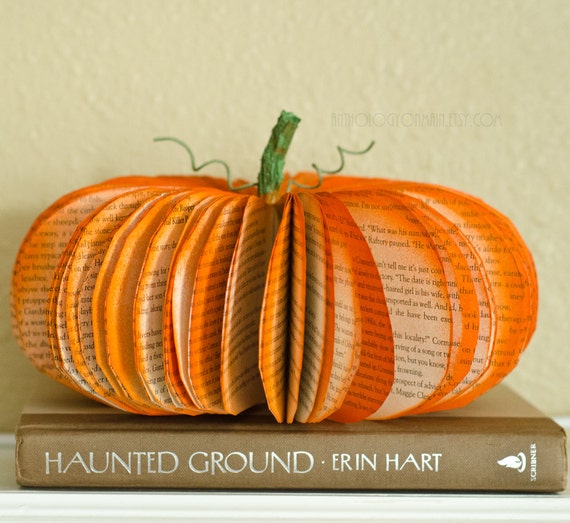 Wednesday, November 15th
Two times to choose from: 
1:00-2:00 pm
OR
5:30-6:30 pm
Come make a festive pumpkin or glittery tree from old paperback books! These easy to make crafts are perfect for holiday decorating and a great way to recycle old books.
Please register at the Library or call 330-876-2461.
Create & Take @ the Library
Saturday, December 2nd @ 10:00 a.m.
Join Library Staff once a month to create a new creative project to keep!
This program is open to adults & teens ages 12 and up!
Registration is required and limited.
Please call (330) 876-2461 x 2751 to sign-up for next month's session!
December's Session: We will be painting this Snowman Welcome Sign on slate
Free of Charge--paints, brushes and slate will be provided; Limited space, so registration is a must; Wear old clothes in case of accidents with paint
Ugly Sweater Decorating Party
Thursday, December 7th
Drop-In anytime between 1:00--3:00
Come create an ugly sweater for the upcoming holiday season!
All ages are encouraged to drop in on Thursday, December 7th between 1:00-3:00 p.m.
You bring the sweater, and we will provide all the glitter, paint, and glue you need to make the ugliest sweater ever.
Then be sure to wear it to the Holiday Celebration on Saturday, December 9th and enter the Ugly Sweater Contest!
Holiday Celebration & Cookies with Santa @ the Library
Saturday, December 9th 
Drop-In Anytime
from 10:00 a.m. to Noon
The entire family is invited to join Library Staff for a holiday celebration that's fun for everyone!
Featuring:
Visits & Photos with Santa
Games, Crafts & Activities for Kids
Free Rrefreshments including Hot Cocoa and Decorate-Your-Own Cookie
Ugly Sweater Contest for Teens & Adults
Christmas Carol Karaoke
Ornament Making
Trimming of the Library's Christmas Tree in the Garden
 No pre-registration is required, so drop in anytime for the fun!
Be sure to check out all of the Holiday Festivities that will be taking place around Kinsman that same day:
Santa will arrive in the town square by wagon at 6:00 p.m.
The American Legion will provide festivities from 6--8 p.m. including free hot chocolate and cider, cookies, visits with & a gift from Santa and much more!
COMPUTER & TECHNOLOGY EDUCATION
The Library is proud to announce that we have added a Technology Educator to our team who will be dedicated to providing computer classes and one-on-one technology education sessions for our patrons! 
Sign up to attend FREE computer classes on Basic Computers, Microsoft Word or Excel, Social Media, E-Resources and more! Click here to see a list of classes!
Sign up for a 30 minute one-on-one private session with the Technology Educator (walk-ins welcome with a 1 hour notice)
All Technology Education classes and one-on-one sessions are completely FREE of charge! Class sizes are limited and require pre-registration. One-on-one sessions will be available on a scheduled basis; walk-ins will may be available-please call at least one hour prior to the time you wish to walk-in. Registration for classes and one-on-one sessions is NOW OPEN, so call or stop into the Library!