Home
Job Opening: Part Time Library Aide
Job Posting: Part Time Library Aide
The Kinsman Free Public Library has an immediate opening for a Part Time Library Aide. The starting rate of pay for this position is $8.15 per hour. Eligible candidates must be 18 years or older and possess a High School Diploma or GED equivalence. Applicants must be available to work flexible schedules that includes days, evenings and weekends. Qualified candidates should be enthusiastic team players who are able to meet deadlines, can multi-task, have basic computer skills, can handle extended periods of standing and walking, and can lift up to 40 pounds. Basic job duties include but are not limited to performing all circulation desk duties, transacting and counting back money, cleaning and shelving library materials, providing excellent customer service, providing readers' advisory, shelf reading, and assisting with library programming for children, teens and adults. Library experience is preferred. Interested candidates should stop into the library to fill out an application and send resume and cover letter to Library Director, Kimberly Garrett, at This email address is being protected from spambots. You need JavaScript enabled to view it.. Application deadline is March 10, 2017.
ARE YOU INTERESTED IN SERVING ON THE LIBRARY BOARD OF TRUSTEES?
The Kinsman Free Public Library has an immediate vacancy for a member to serve on the Library Board of Trustees. The Board is seeking to identify a pool of dedicated individuals who have a passion for public libraries and the ability to effectively advocate for them. This is a volunteer position. Trustees are not compensated for their service.
Becoming a Trustee requires a sincere commitment to the library, the ability to represent it well in the community, leadership skills, a talent for working well in a team environment, the ability to bring community needs to the attention of the library and library needs to the attention of the community, and dedication to spending the necessary time to do the job well. Trustees must be able to attend and actively participate in all monthly meetings, which are held on the second Tuesday of each month at 5:00 p.m. (no meetings during the summer months of June, July or August), as well as any called special meetings. Trustees are appointed for a term of seven years, with eligibility to serve a second term.
Do you have the interest, energy, and expertise necessary to be a trustee? If you would like to be considered for this vacancy, please send a resume and cover letter expressing why you should be the next Trustee addressed to the Kinsman Free Public Library Board of Trustees, care of Kimberly Garrett, Library Director, to This email address is being protected from spambots. You need JavaScript enabled to view it., or deliver in person to the Library. Application deadline is March 10, 2017.
Playaway Launchpad Tablets for Children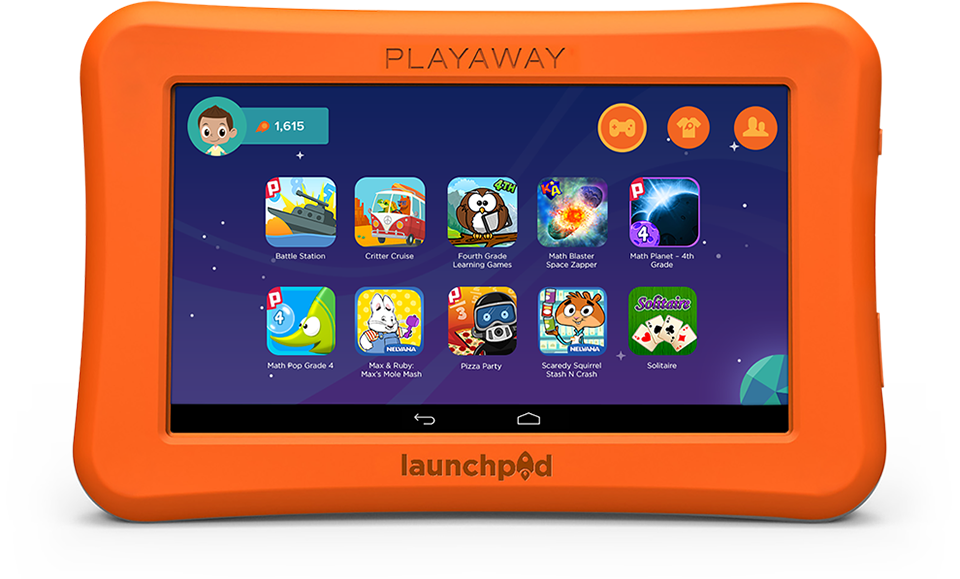 Introducing an exciting NEW technology to hit the Kinsman Free Public Library's Children's Department! It's the Playaway Launchpad Tablets! These tablets are:
Pre-loaded with high-quality, ad-free learning apps and immediately ready to play with
Curated with age specific and appropriate games and content
Durable enough to move from the hands of one little explorer to the next
100% secure — No risk of exposure to unintended content

Choose from 5 different tablets designed for children ages pre-K and up! The tablets are available to borrow and use in the library only (may not be checked out or taken out of the children's department) with a library card. Stop in and ask about the tablets today! Come in, stay & play!
Join the Club!
Who: Hosted by Kinsman Free Public Library staff and open to any adult age 18+ who loves to read mysteries.
What: Exciting New Book Club for people who want to read and discuss mysteries while enjoying great food and company. (Food available for purchase, not provided)
Where:  Meets at the Peter Allen Inn,  8581 Williamsfield Kinsman Road, Kinsman.
When: Meets on the 1st Thursday evening of each month at 6:00 p.m. beginning March 2, 2017.
How to Join: Please stop into the Kinsman Free Public Library to register, or call (330) 876-2461, or click HERE to register online!
 Book Selected for March 2nd: Behind Closed Doors by B.A. Paris
This item is available to check-out through CLEVNET. Stop into the library with your library card to reserve a copy today!
Music & Movement for Kids in March
Move and Groove to the music with Children's Librarian Dianne Piper in a brand new program filled with music, movement, dancing, rhythm-building games, instrument play, and early literacy activities.  Children are encouraged to stay and play with other participants after each session!  Join Mrs. Piper on Monday, March 6th, 13th, 20th, and 27th at 11:00 - 11:30 am.  Registration is requested, but not required for this Free program.
Kids Painting! Friends of the Library Fundraiser
Children ages 4 years and up are invited to join the party on Saturday, March 11, 2017 at the library for Kids Painting!  Drop in anytime from 10:00 am to Noon in the Library activity room and create a finger friendly masterpiece!  The small canvas (for smaller hands) is $5.00 and the larger canvas is $10.00.  Using hand prints, children will create a one-of-a-kind work of art that everyone will treasure!  Makes a great gift for grandparents and godparents!  The Friends of the Kinsman Library does fundraising throughout the year to help fund programs like summer and winter reading.  Come join us and support the library!
Project FeederWatch is Back
The library will again be participating in Project FeederWatch in conjunction with the Cornell Lab of Ornithology.  You the public, are invited to help us count the birds that visit the feeder in the Wellness Reading Garden on scheduled days.  Anyone can count and all are welcome!  Stop at the front desk for a tally sheet & directions, then head out to the garden for a quiet sit down.  You may watch the feeder for as little as five to ten minutes, or for however long you wish!  For more information you may visit FeederWatch.org.  Dates for 2016-2017 are:; Feb. 21, & 22; March 7, 8, 21, & 22; April 4 & 5.
LOVE your LIBRARY Winter Reading Program
The Love Your Library Winter Reading Program starts February 1, 2017 and runs thru March 17th.  The program is open to children, teens, and adults.  Register now for fun reading challenges and games, win prizes, and have fun at the library!  Pre-K kids can have fun being read to.  Everyone is invited to share WHY they love their library by making a quick card at our Heart Station.  Or if you want, bring us a card and write a note inside for the library.  All Winter Reading Program members can earn special prize tickets to win an Amazon Gift card when they turn in a Valentine card.