Home
Easter EGG-stravaganza!
Max and Ruby are back for Easter fun at the library!  Children ages Pre-Kindergarten to 1st grade are welcome to register for the Easter Party on Saturday, April 1st from 11:00 am to Noon.  Watch the story of" Max's Chocolate Chicken" by Rosemary Wells, make a holiday craft, and go on the hunt for Max's chocolate chicken in the library!  There will be eggs-a-plenty for finding and other surprises.  You must be Registered to Attend this event and only One adult per child please!  Space is very limited! Register by visiting or calling the Children's Dept at 330-876-2461.  A wait-list will be assembled.  If you are registered and cannot attend, please call the library immediately.   
Master Gardener Series is Back!
The Ohio State University Extension's Master Gardener Series is back at the library.  Starting in April with two programs at 5:30 pm: Tuesday, April 4th - Elevated Gardens presented Dr. Wanda Thomas.  Save time, space, and your knees and back with elevated gardening using raised beds, pots, straw bales and more.  This type of gardening is great for all ages and abilities, especially those who may have had to give up gardening in the past due to age or injury.  Learn what plants to pick, how to keep them healthy, and how easy it is to grow your own veggies.  The second April Program is:  Tuesday, April 25 - Vegetables and Tomatoes presented by Jack Hinaman.  Successfully chose, plant, and grow from hybrids to heirlooms.  Bring your questions and ask an epert!   Free and open to the public.  Registration requested, but walk-ins are Welcome!  Bring a friend.  
Mysteries at the Inn Bookclub
Who: Hosted by Kinsman Free Public Library staff and open to any adult age 18+ who loves to read mysteries.
What: Exciting New Book Club for people who want to read and discuss mysteries while enjoying great food and company. (Food available for purchase, not provided)
Where:  Meets at the Peter Allen Inn,  8581 Williamsfield Kinsman Road, Kinsman.
When: Meets on the 1st Thursday evening of each month at 6:00 p.m.
How to Join: Please stop into the Kinsman Free Public Library to register, or call (330) 876-2461, or click HERE to register online!
 Book Selected for April 6th: The Vanishing Year by Kate Moretti
This item is available to check-out through CLEVNET. Stop into the library with your library card to reserve a copy today!
Want to chat about what we are reading? Check out our BLOG!
Music & Movement for Kids
Move and Groove to the music with Children's Librarian Dianne Piper in a brand new program filled with music, movement, dancing, rhythm-building games, instrument play, and early literacy activities.  Children are encouraged to stay and play with other participants after each session!  Join Mrs. Piper on Monday, March 27, April 3, 10, 17, & 24 at 11:00 - 11:30 am.  Registration is requested, but not required for this Free program.
Chocolate Party for Teens!
Dip It.  Dunk It.  Eat It!  Bring your sweet tooth to the library on April 19, 2017 from 5:30 - 6:30 pm!  Savor the yummy goodies as you dip and dunk cookies, marshmallows, fruit, pretzels, chips, and more in creamy delight.  Teens ages 12- 17 years are welcome.  Free!  Bring a friend or two!  Register Please in the Media Center (so we have plenty) or Just Drop In!  No library card needed.  
Sesame Street Comes to Hoopla!
Sesame Street is now on hoopla! from hoopla digital on Vimeo.
Check out HOOPLA Digital from Kinsman Free Public Library...a service that allows you to stream digital books, movies, and music for free!
Now available for your enjoyment! You can digitally access movies, full music albums, and audiobooks for children, teens and adults through HOOPLA, provided by Kinsman Free Public Library!  
With your library card you will have access to thousands of items, with no late fees, on your PC, tablet, or phone.  Convenient, fast, and addictive, you can now watch and listen wherever you go.  
A HOOPLA button is conveniently located on the left side of the library's homepage. Perfect for anyone - kids, teens, adults!  Using our catalog search for titles, author/artist, genre, and more. When you find your item click on the title and look for the "Electronic Format" listing on the page.  You will see HOOPLA.  Check it out (you will need your library card number and pin).  Make sure you download the HOOPLA app to whatever device you will be using.  At this time you may check out ten (10) items per month per card.  Questions?  Talk to a staff member today! 
Playaway Launchpad Tablets for Children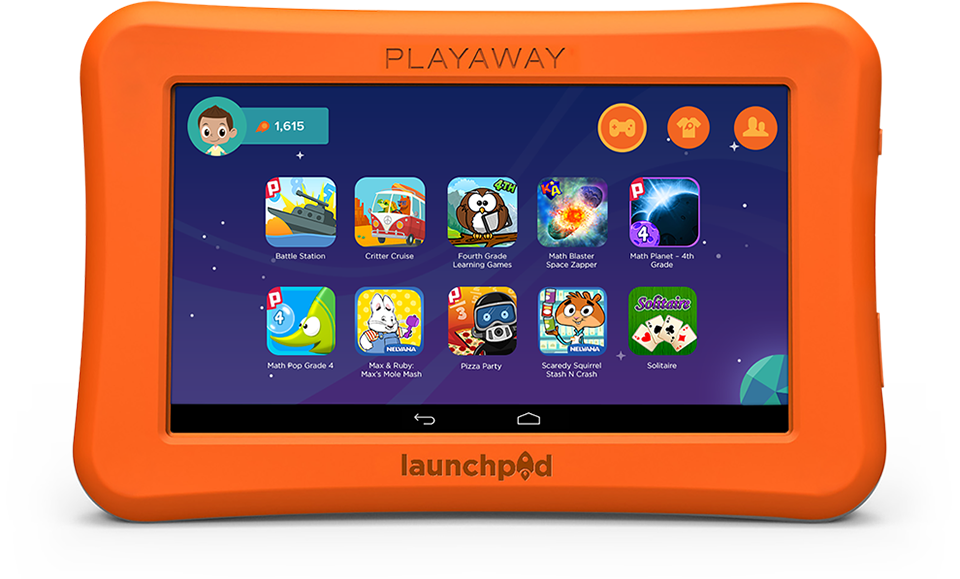 Introducing an exciting NEW technology to hit the Kinsman Free Public Library's Children's Department! It's the Playaway Launchpad Tablets! These tablets are:
Pre-loaded with high-quality, ad-free learning apps and immediately ready to play with
Curated with age specific and appropriate games and content
Durable enough to move from the hands of one little explorer to the next
100% secure — No risk of exposure to unintended content

Choose from 5 different tablets designed for children ages pre-K and up! The tablets are available to borrow and use in the library only (may not be checked out or taken out of the children's department) with a library card. Stop in and ask about the tablets today! Come in, stay & play!